Players pay their match fees via the Slate app, eliminating cash. Here's how…
  1  
Treasurer/Club Administrators
Set your club up in minutes. Add your players and link your club bank account to GoCardless. Slate then invites your players to join.
  2  
Captains/Team Managers
Download the Slate app. Register, set up a fixture, select your team and monitor players' payments. Slate sends reminders to late payers automatically.
  3  
Players
Download the Slate app, sign in and set up your bank details with GoCardless. Then pay as you go.
TREASURER OR CLUB ADMINISTRATOR
Set up your club in the treasurer portal
Slate has a web portal that allows treasurers or club administrators to set up and administer their club.
More details
define the items you want to collect money for (home games, cup games, annual subs, and so on)
set the different fee levels in your club eg. adult, student, guest, youth, etc
add players email addresses manually or by spreadsheet
assign team captains/managers and assistants – two per team
set up the club with GoCardless
Slate will automatically send invites and instructions to players to download and set up App on their phones
Slate costs
There is no upfront payment for Slate or contract commitment, just a small fee per transaction:
For all payments, the fee is 3.5% + 20p. Our profit is 2%, 1% + 20p goes to Gocardless and 0.5% to the taxman.
If Slate helps collect just one more match fee per match, over a 20 game season a club will be £90 better off per team. Plus, the job of collecting match fees becomes far less time consuming.
GoCardless payment partner
GoCardless is an established payment gateway that processes over £1bn each year for customers like the UK Government, CNN and the BBC. When a club registers with GoCardless, they effectively become a merchant. This allows the club to collect money from players that link to it via the Slate sign-up process. Slate doesn't hold payment information. This is held and processed by GoCardless.
How do we pay for referees, teas and umpires if we aren't collecting cash any more?
Different clubs approach this in different ways. Perhaps the simplest way is to give a cash float to each captain, whilst others pay through the club's bar takings.
CAPTAIN/TEAM MANAGER
Create fixtures in the Slate App
Captains use Slate to create and monitor a fixture.
The fixture is created and the players are selected. Adjustments to match fees can be made for various reasons, such as substitutions, injuries, and for players that want to pay by cash. Then the fixture is confirmed and players can be told their fees are ready to pay by Slate after the game. It's really simple to do and takes just minutes.
Send out payment notification
Any players that leave a match early receive an email reminding them they owe for the fixture. For players who haven't paid by Tuesday another reminder automatically issues, with a third reminder on Saturday if the fee remains outstanding. When the captain arrives for the game, they can quickly check the App to see who hasn't paid for the previous week and give them a further reminder.  
PLAYERS
Set up Slate on their phone
Players receive an email from Slate with instructions on how to download, set up the App and enter their bank details to GoCardless. It takes two minutes.
How to pay for a match
After matches, players go to the Slate App, select their name in the fixture, and pay. Simple. Please note – players have to initiate payments through Slate, rather than the club drawing money from players accounts as in a direct debit mandate.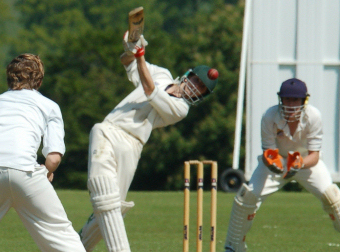 "@TheSlateApp made our match fee collection easy and simple. And more cash comes in without hassle"